Journey on the B-Line (Part 1)
Despite the fact that the B-line is notorious for being the slowest way to get downtown, there are a lot of hidden gems. Here are some of my favorite places at each stop! If you have your own favs let us know!
Fuel is located just a short walk from the South St T stop on Chestnut Hill ave. It is a favorite place for students to study while sipping on a hot espresso drink. Personally, their Mint Matcha Latte is a favorite of mine.
Chill was the first place I tried frozen yogurt, many years ago. Although the frozen yogurt rage might be dying down, Chill is still a good place to... well, chill. I suggest trying the tart yogurt with some sweet fruit toppings.
Yamato is a Japanese restaurant with a great menu. I've tried a lot of different things for the first time at Yamato (like octopus, which I probably won't eat again, but I'm glad I tried it). If you're hungry, keep in mind they also have an all you can eat option.
Sutherland Rd: Dolce Vita Cafe
Image Source
So, full disclosure I've never been inside Dolce Vita Cafe. But, every time I pass it I think "I want to check this out!" It's definitely on my list, so consider adding it to yours!
Tasca ia a topas bar on the Washington St stop. I'd recommend checking out this restaurant with some friends. Order a selection of tapas for the table, so everyone can try a bit of everything. And then you can easy-peasy split the check down the middle.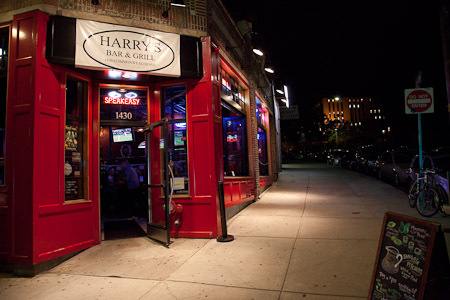 Image Source
Harry's may not seem like much from the outside, but much like the T.A.R.D.I.S (Time And Relative Dimension In Space) on
Doctor Who
, I'm pretty sure it's bigger on the inside. Also, it looks kinda like the phone both on the outside, so the comparisons are endless. I love Harry's for brunch, which they serve on Saturdays and Sundays.
Allston St: Yeah, I was trying to find something at every stop, but this one is a mostly residential. My advise is to skip it and wait for the next stop right around the corner:
Griggs St/Long Ave: Starbucks... who doesn't love Starbucks
Who doesn't love a good Starbucks? The Starbucks at this stop as a great atmosphere and plenty of table space (and seating!) for studying.